CALL OF DUTY mobile community in association with SOCIAL PORTE presents battleground fight.
Have an amazing time fighting alongside your friends and win legit cool cash prizes.
Enter the contest free and win huge sum of money.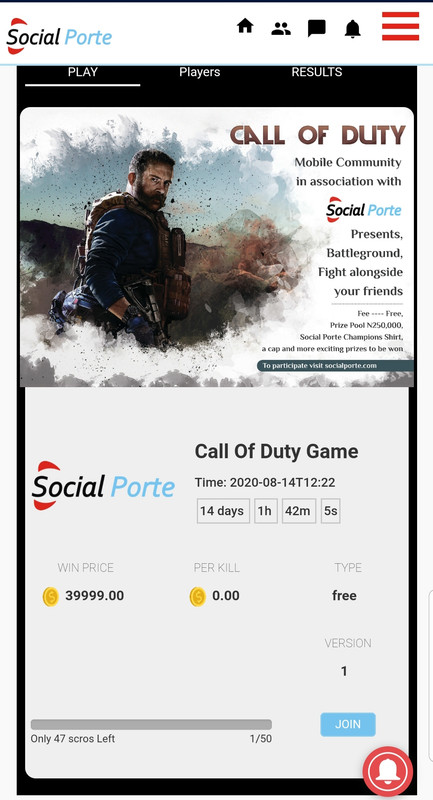 To be a part of this competition follow the procedures below;
   PROCEDURES ON HOW TO JOIN THE GAME.
Step 1: Register on SOCIAL PORTE platform   
Step 2: Download Call of Duty app on your mobile phone 
Step 3: Create an Account on Call of Duty and choose your preferred username.(Note: when creating an account, do not register as a guest. You create an account using Call of Duty itself).
Step 4: Practice more on Battle Royale and get more knowledge on how to play the game.
Step 5: Log into Social Porte and join the contest with your username.
      To win the cash this is how the game goes; Group of fifty persons comes together to play the game, The last player standing and the player with the highest kills get to win Twenty thousand naira (#20,000.00) cash prize each.
And if the last player standing has the highest kills, He gets to win Forty thousand naira (#40,000.00) cash prize.
     Hurry Hurry Hurry offers last from now to 14th August 2020.